It would be more than a play on words to say that defensive end Trey Flowers blossomed in the 2019 season to show he will be the perennial impact player the Detroit Lions envisioned when they signed him as a free agent.
The Lions showed their level of interest in Flowers by signing him on March 14, the second day under NFL rules teams could sign unrestricted free agents. Cornerback Justin Coleman and tight end Jesse James, also expected to play key roles, were signed on March 14.
Flowers delivered as expected after a slow start caused by a shoulder injury that he worked to rehabilitate throughout the offseason.
"He played really well for us all season – run defense, pass defense, quarterback hits, hurries, sacks," Lions general manager Bob Quinn said in his postseason press conference.
There were mixed results for Coleman and James, which is typical of most free agent classes and was no different for the 2019 Lions.
Coleman had a good start and finished well with some struggles in between. And James never had a significant role as a receiver, something Quinn said in his postseason press conference needs to be addressed in 2020.
While those three were targeted to be signed in the first wave of free agency, others were signed before the start of free agency and up to the eve of training camp.
Here's a look back at how the Lions fared overall with the 2019 class of veteran (four or more years) free agents:
Wide receiver Danny Amendola: Amendola was released by the Dolphins on March 8, which allowed him to sign before March 14 as a "street free agent." Amendola practiced and played in the fast lane, bringing contagious energy to the receiver corps.
He had 62 catches, third most in his career, and an average of 10.9 yards per catch, second highest of his career.
Bottom line: The proof of Amendola's value is that he has been re-signed for 2020.
Defensive end Trey Flowers: It took him a while to get on track, but once he got started, he made an impact. He had one sack in the first six games, then broke out with six in the next six games.
Flowers tied linebacker Devon Kennard for the team lead with seven sacks, led the team with 21 quarterback hits and was second to Kennard in tackles for loss with eight. Kennard had nine.
Bottom line: Flowers was the player the Lions thought they were getting when they signed him.
Cornerback Justin Coleman: He was one of the top-rated slot cornerbacks available on the free-agent market, and he did more than that with the Lions. He played all 16 games for the third straight season, with a career-high of 11 starts and 963 snaps, most of any Lions defender.
Coleman also had a career high 47 solo tackles and tied cornerback Darius Slay for the team lead with 13 passes defended.
Bottom line: Coleman played his role well more often than not. The entire secondary was hurt by the lack of pressure and sacks up front.
Tight end Jesse James: Signed before the Lions drafted tight end T.J. Hockenson eighth overall, James looked like an ideal veteran complement based on his average of 37.3 catches per year his last three seasons with the Steelers.
That production did not travel to Detroit. James had only 27 targets and 16 catches, playing all 16 games with 11 starts.
"Jesse James needs to get more involved in the offense," Quinn said in his postseason press conference. "I know Jesse is excited about going forward with a really deep tight end room. That's going to be a big part of our offense going forward."
Bottom line: James will get his chance in 2020.
Tight end Logan Thomas: Originally drafted as a quarterback, Thomas was signed in the second wave of free agency. He had his career highs for catches (16) and yards (173) in 2019, and 10 of his catches gained first downs. Size (6-6, 250) and athleticism made him a good secondary target.
Bottom line: I think he's worth another look.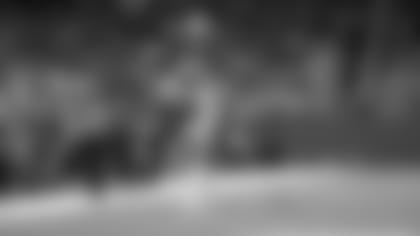 Guard Oday Aboushi: Signed on March 14 for backup depth, and he provided it. Aboushi played seven games and started the last two.
Bottom line: The quintessential journeyman punched another ticket on his travel log. The Lions were his fifth team in six years, and he started games all six seasons, with a total of 34 starts.
Wide receiver Jermaine Kearse: Signed in early June, the seven-year vet's size (6-1, 209) and ability to play inside and outside made him a candidate for the No. 4 receiver spot. Unfortunately, his season ended before it began by a leg injury sustained early in the first preseason game.
Bottom line: Kearse never got to show his experience in Darrell Bevell's offense.
Running back C.J. Anderson: Signed on April 1, he showed little of what made him a 1,000-yard runner with Denver in 2017 and a valuable backup for the Rams in 2018. Anderson was cut after two games, with 16 carries for 43 yards.
Defensive tackle Mike Daniels: There were high expectations for what he could add to the defensive line when he signed before the start of training camp after being released by the Packers. Daniels was limited to nine games and two sacks because of a foot injury.
Bottom line: One of many veterans on a defensive line shattered by injuries.