DJ Chark feels comfortable with his new teammates and surroundings in a career shift that has taken him from the Jacksonville Jaguars to the Detroit Lions.
"I like it," Chark said after an offseason practice. "You're never in the wrong circle. If I'm around the defensive backs or the linemen or defensive linemen, it's pretty easy to spark a conversation or be in the conversation, which is cool for me being a new guy.
"It's my first time in a while – new team, learning new names, learning a new city. I truly believe God puts you where you need to be.
"I think this is where I needed to be."
Chark sounded at ease as he spoke about growing up in Louisiana and his career playing wide receiver -- four seasons at LSU then four more with the Jacksonville Jaguars after they drafted him in the second round in 2018.
The Lions signed him to a one-year contract as a free agent in March to add a speed receiver to the offense.
At 6-4 and 210 pounds and with his accomplishments in football – which includes a Pro Bowl appearance in the 2019 season – Chark has the resume of a man who has never had a care in the world.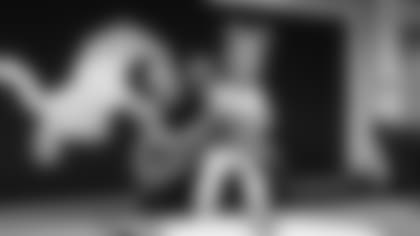 He and his wife, Chantelle, have a one-year-old daughter, Mackenzie, and are expecting their second child.
Life hasn't always been that easy for Chark. He struggled with anxiety throughout middle school and high school and into his early days at LSU before he sought help.
He did not fully understand what he was dealing with.
"Looking back at it now, I'd worry about so many things that I'd become saddened," he said. "I'd go inward. You hear about people becoming introverts a lot. I didn't open up to friends.
"I didn't want to meet new friends. I didn't want to meet new people."
Chark reached a critical turning point when the training staff at LSU assisted him in getting help. Chark began going to therapy and taking prescription medication while with the Jaguars. He continues both.
Having the courage to seek help, and getting competent help, were key steps for Chark.
"I think they're equally important," he said. "The first step is being willing to reach out and find help, but also having those people -- when you do reach out, they're there.
"If you're reaching out and you don't have the support system or people to help you, sometimes it feels like there's no hope.
"It's good to have both: The courage to reach out, but also the resources to help you."
Chark had to deal with the stigma connected to mental heath. There are some who consider seeking help a sign of weakness.
"It's one of the things that's definitely in sports, but also in life," Chark said. "You have the 'just suck it up' mentality. I feel like it's not spoken about enough.
"There's a little truth to that, in picking yourself up by the boot straps. There are also different practices or things that can help you with your mental health that will take you a long way."
Chark isn't downplaying the importance of his practices on the playing field in his first season with the Lions. This is a recovery year physically for him. He went down for the season last year with a broken ankle sustained in Jacksonville's fourth game.
"It was my first time being out for a season," Chark said. "It's been a long recovery. It's my first time back on the field going against people. Being the person I am, I'm excited.
"I think these are small wins, just being out here competing. I'm really hard on myself about being as close to perfection as possible every day I come to work.
"We all come to work with the same mission. Everybody wants to get better. It's football."