That's the time limit Detroit Lions general manager Bob Quinn will be working under to decide which player he takes in the first round of the NFL's 2019 draft Thursday night.
Ten minutes that could crawl by a second at a time in what seems like an eternity, or roar by like a bullet train at full speed in a blur of colors and indistinguishable shapes.
Ten minutes, and not a second longer, under the allotted time in the first round to select a player with the eighth pick overall, or to use the prime draft position that was a product of last season's 6-10 won-loss record to make a trade.
Either way, pick or trade, it's an opportunity to make a significant impact on the Lions' fortunes in the upcoming season and beyond because of the pool of players available at positions of need – playmakers on defense and tight end among them.
"It's a well rounded draft ... looking to improve the team in all facets," Quinn said at his annual pre-draft press conference.
The NFL draft has become a ratings draw for the TV networks, with every pick a one-act drama in its own right.
In the Lions' case, the personal drama builds throughout the first seven picks to a 10-minute starring role that begins when NFL Commissioner Roger Goodell announces, "The Detroit Lions are on the clock," and ends with Goodell announcing the pick.
For the Lions, the end result of what happens in that 10-minute window of opportunity is the product of a 13-month period of scouting, analysis and evaluations.
It begins with the college spring practices the previous year and includes such minute but important details as setting up a bank of specialized phones to use during the three-day draft. None of that is part of the show.
For Quinn and other executives, the drama on Thursday night's first round will be hoping their carefully plotted draft plan isn't derailed by an unexpected move by a team drafting ahead of them – and adjusting when it happens, as is often the case.
"Really, the most intense moment is, you know who you want, and you're waiting for the team before you not to pick him," Quinn said in a sit-down interview last week.
"It's that moment, then you feel, 'OK, I'm good.' You kind of sit back in your seat, and you kind of take it in. You know you want that guy."
"If the guy you wanted just went, and if (the next choice) is down to two guys, you have to have that conversation," Quinn said. "You don't want to be scrambling. You don't want to make rash decisions. You want to have it all thought out."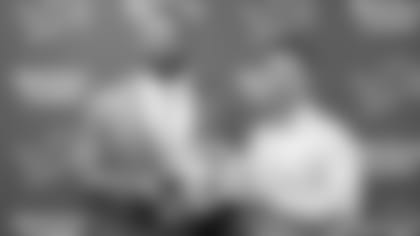 Quinn frequently singles out his scouts and personnel executives for the work they do, and for good reason. They filed reports on approximately 1,800 prospects for this year's draft. That list has been whittled to about 200 players, Quinn said.
Their work, along with the coaching staff, leads to the end result of having players graded so alternate decisions can be made quickly –all while the draft clock is ticking.
"That's why you put in all the work leading up to it," Quinn said. "It happens every year. You've got hundreds of guys up on the board. You like a lot of them. You get deflated there for 30 seconds.
"Then you get back focused – 'this is the next thing at hand. I've got to make the decision and get it right.'"
Behind the scenes of the draft drama is a support system of role players and preparations that make the three-day process operate smoothly.
The draft room, with landlines installed to primarily to facilitate trades, is set up on Tuesday at the Allen Park headquarters facility. Two team officials are dispatched to NFL draft headquarters in Nashville with various responsibilities – including turning in the draft cards.
The rest of the franchise's draft contingent, including owner Martha Firestone Ford and family members, head coach Matt Patricia and the entire scouting and personnel department, will operate out of Allen Park headquarters.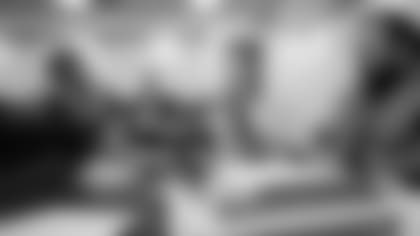 Assistant coaches are on call in their offices.
Quinn relies on the trio of Vice President of Player Personnel Kyle O'Brien, Director of Player Personnel Lance Newmark and Patricia as his chief advisors.
The personnel department has a fully computerized data base, but Quinn has stuck with magnetic cards on the draft board because of what he calls his "old school" roots.
The six specially designed landlines, used by many teams, have 32 buttons set up to speed dial each of the 32 teams.
"The land lines are for trades mostly," Quinn said. "You pick up the phone, you're trading with Pittsburgh, you hit 'Pittsburgh.' You're talking to Kevin Colbert (the Steelers' GM).
"Instead of flicking through your phone, you're hitting one button. You have to be quick."
Quinn has often said that he'd like to trade back in the first round to add to the nine picks he has going into the draft. But there's a limit to how far he'll go back based primarily on how players are graded.
Through their research and personal mock drafts – which Patricia calls 'case studies' – Quinn has a good idea of the three or four players who are certain to be drafted ahead of the Lions.
After that, the talent pool remaining at No. 8 and beyond isn't as clear cut.
"You have to evaluate how many positions you're moving down," Quinn said. "If you move down seven spots, and you only have six players (you want), you're gambling that you're going to get one of them. It's quick math.
"You might be OK, but I can't say for sure."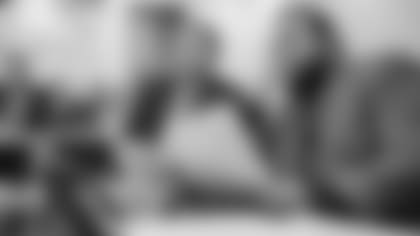 When the Lions are on the clock, they're open for business to trade – ready to punch the speed dial numbers, and to take calls, but with a time limit.
"Generally speaking, if you're in the first round you have 10 minutes on the clock," Quinn said. "You wait at least five minutes, to see if the phone rings. Then you take a minute and probably 30 seconds to get the player on the phone and make sure he's there talking, alive and ready to go.
"And then, you always want to give yourself a couple minutes of a buffer before the time goes off."
Finally, there's the pick – at No. 8 if there's no trade, or lower if there is – with a few details to make it official, and a few moments to enjoy what a year's work has produced.
"It's really good," Quinn said. "It's kind of like an 'a-ha" moment. We've done a lot of work. That last couple of minutes, it's pretty intense.
"I have one of my assistants call the player. Then I call our rep in Nashville and tell him the name – spell it out correctly so they can write it on the card correctly, then have him read it back to me. Three or four minutes later, you see Roger Goodell at the podium, announcing the pick.
"Matt and Mrs. Ford say hello."
And then get ready to make the next pick.