Detroit Lions Charities, an extension of the Detroit Lions organization which distributes grants to Detroit and Michigan nonprofits, supports transformational efforts in underserved communities by working to create long-lasting impact through meaningful partnerships. Throughout the year, the Detroit Lions work to raise awareness and funding for these organizations, prioritizing critical needs in the community, with an emphasis on youth development, access and opportunity and social justice initiatives in Detroit.
After a year in which many nonprofits were stretched to their thinnest, Detroit Lions Charities has identified their partners for 2021, each one with platforms closely aligned with the organization's mission and values, as well as vision for a stronger, healthier region.
New in 2021 and partnering with Detroit Lions for the very first time is Boys and Girls Clubs of Southeastern Michigan. The Boys and Girls Clubs of Southeastern Michigan empowers youth to become career, start up and homeowner ready by providing safe after-school programming to Detroit youth beginning at six years old all the way up to 18. Boys and Girls Club is dedicated to addressing poverty as the root cause of issues facing our youth by driving economic mobility for youth, families and the greater community. Detroit Lions Charities is set to provide support for the Boys and Girls Club of Southeast Michigan's football and cheerleading leagues serving thousands of youth throughout Metro Detroit each year.
Detroit Lions Charities' longest running partnership, Detroit Lions Academy (DLA), will continue in 2021. DLA is a Detroit Public Schools Community District alternative middle school located on the east side of Detroit that opened in 2001, with the Lions as a founding partner. DLA provides over-age students the opportunity to learn and achieve in a structured and safe environment which addresses their individual learning and personal needs to get them back on grade-level. The Lions' financial support helps DLA address student barriers to education by meeting basic needs and providing supplies and resources. A steady presence of Lions players, cheerleaders, Legends and Detroit Lions staff provides mentorship and leadership development opportunities to help students succeed beyond the classroom. Along with providing ongoing resources for the school, through the Inspire Change initiative, the Detroit Lions have awarded $75,000 in scholarships to 12 DLA students since 2019.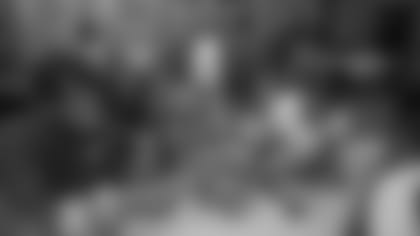 City Year Detroit, which first became a Detroit Lions Charities partner in 2018, helps to close gaps in high-need schools by supporting students' academic and social-emotional development while also providing schools with the additional capacity to enhance school culture and climate. Teams of City Year AmeriCorps members provide research-based classroom and school-wide support to help students stay on track to graduate from high school, prepare for college and for career success. In 2021, the Detroit Lions resources will be allocated to sustain a City Year Detroit Team at Mary McLeod Bethune Elementary-Middle School in the Fitzgerald Neighborhood of Detroit. This team of 10 AmeriCorps members provides academic and emotional support for students every day of the school year leading to improved student outcomes. From the start of 2019-2020 school year to mid-year, 81% of Bethune Elementary students with City Year support showed growth on ELA assessments and 78% improved on mathematics assessments.
An organization long close to the Detroit Lions as it puts health and fitness at the forefront of its work is Playworks Michigan. Playworks Michigan is committed to helping schools and youth programs create recess and play environments where every child can join. Specifically, Playworks helps schools and districts make the most of recess through on-site staffing, consultative support, professional development and free resources. Detroit Lions Charities funding is earmarked for the implementation of recess and play-based programs in Michigan schools, where they otherwise may not have had the means to provide them. During the 2019-2020 schoolyear, funding from Detroit Lions Charities supported Playworks in reaching a total of 18 schools in Southeastern Michigan, making it possible for 7,653 children to experience safe, healthy play.
The final 2021 Detroit Lions Charities partner is none other than Eastern Market. A historic Detroit staple, Eastern Market's objective is to nourish a healthier, wealthier, and happier Detroit. Through providing food security services, Eastern Market continually looks to improve access to nutritional foods and provide residents with information to prepare healthier meals. The Detroit Lions Charities grant supports Eastern Market food access programs that aim to increase food access points and provide Detroiters with fresh food at convenient locations in local neighborhoods for nine years and counting. In 2019, a team of 37 Food and Health Fellows managed Eastern Markets Farm Stands in the community, engaging with more than 6,000 unique customers.
The Lions are proud to partner with Boys and Girls Clubs of Southeastern Michigan, Detroit Lions Academy, City Year Detroit, Playworks Michigan and Eastern Market as we collectively look towards a brighter 2021.