Zach Zenner's rookie season ended prematurely and painfully.
The undrafted rookie out of South Dakota State suffered multiple fractured ribs and a partially collapsed lung after taking a big hit from Bears rookie safety Adrian Amos Week 6. The Lions placed Zenner on season-ending injured reserve shortly thereafter.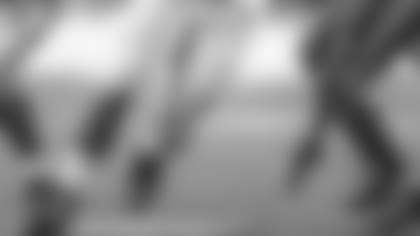 RB Zach Zenner (Photo: Detroit Lions)

Zenner was a feel-good story for the Lions at the beginning of the year. After rushing for 2,000 yards in three straight seasons for the Jackrabbits, he was passed over in the draft and eventually signed as a free agent in Detroit.
He quickly impressed the Lions' coaching staff in the offseason with his hard-nosed running style and vision. He went on to lead the NFL in rushing during the preseason, which earned him a spot on the 53-man roster to begin the year.
The Lions didn't use Zenner much as a runner at the beginning of the season. He was more of a special teams contributor early on, but his role was increasing in Detroit's backfield around the time he was hurt. He had a career high 10 carries (30 yards) vs. Arizona the week before he was injured.
He's had three months now to recover from his injuries and is 100 percent cleared to return to full activity, but he's not hitting the weight room and the field hard just yet.
"I'm really still purposely taking a break from training just to continue to give myself a rest knowing how long the season is and how much time until the season starts in September," Zenner said during locker clean-out day last week.
From a health standpoint, Zenner is good to go, but he has a plan for how he's going to attack the offseason and get himself ready to potentially play an even bigger role in 2016.
He was 224 pounds when he got injured and currently weighs 217. He says it won't take much to regain the muscle mass he lost while recovering from surgery.
"I'm confident in my workout that I'll be able to come back just as strong, if not stronger, because I'm going to start from a base and work my way up," he said.
It wasn't exactly the rookie season Zenner hoped for, but he still learned a lot about the tempo at this level, the speed of the game and how the run game differs from college to the pros.
He could enter next season very much in the mix in Detroit's backfield, especially if veteran Joique Bell isn't retained.
Zenner says he'll be ready to go and better prepared to make a difference in 2016.