BOCA RATON, Fla. – Tahir Whitehead was pretty clear at the end of the season about what position he wanted to play moving forward.
"When I look at it, me personally, I see myself as a MIKE (linebacker)," he said. "To be able to utilize my speed and being able to play sideline to sideline.
"Never really playing MIKE prior to last year (2014), I've grown to really like the position and get comfortable there. I see myself as a MIKE backer."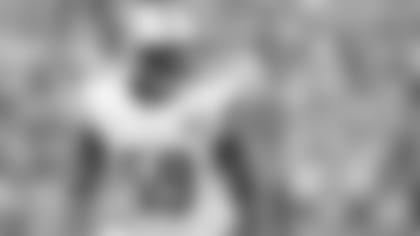 Tahir Whitehead (Photo: Detroit Lions)

It appears Whitehead, who the Lions re-signed this offseason, is getting his wish.
"As of today he's going to play MIKE," Lions general manager Bob Quinn told beat reporters down at the NFL League Meetings Tuesday afternoon.
Whitehead filled in for the injured Stephen Tulloch during the 2014 season and tallied 86 tackles, two interceptions and five defended passes in 13 starts at the MIKE.
Tulloch is still on the Lions roster, but his representatives and the Lions are currently working through some "contractual issues" as Quinn described it.
"As of today, Stephen is on the roster," Quinn said. "I don't want to go into any specifics about why or how he's still on the roster. It's something that, I've agreed to with his representative and him to kind of just keep between myself and them. We're not releasing any more information about it."
If Tulloch's status with the team changes between now and the start of the season, Whitehead could end up being a very important piece to the middle of Teryl Austin's defense this fall.