Tim Wright has been a man on the move in his first three NFL seasons, but he's hoping that a return to the Detroit Lions will be a step toward adding some consistency to his career.
Wright's travels have been unusual, to say the least, but not without any reward.
Since signing with Tampa Bay in 2013 as an undrafted rookie out of Rutgers, Wright has gone through a position change – from college wide receiver to pro tight end -- been put on waivers and claimed, traded twice and won a Super Bowl ring.
What might be the strangest twist of all in Wright's career is that he's gone through a full training camp with the Tampa Bay Buccaneers all three years, but the only regular season he spent with them was as a rookie.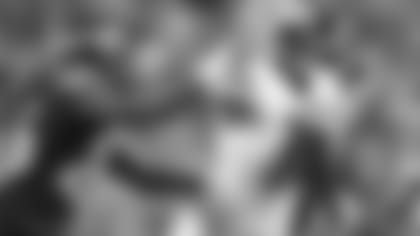 Tim Wright (Photo: Detroit Lions)

"It's a unique situation," Wright said in a telephone interview from his offseason home in New Jersey. "That's part of my story -- doing three camps, all in Tampa, and actually playing for three different teams in the last three years. It's something I'll look back on one day and say, 'Wow. Quite a journey.'
"Honestly, that's behind me. I'm excited about what's in front of me."
Wright was re-signed by the Lions a week ago after originally not being offered a tender as a restricted free agent with three years of experience.
What's behind Wright are three years that have taught him to expect the unexpected, and not just for himself. He has experienced an uncommon amount of change at the top rungs of the coaching ladder.
In training camp or the regular season he has played for four head coaches (Greg Schiano and Lovie Smith of the Bucs, Bill Belichick of the Patriots and Jim Caldwell of the Lions). He's also worked under five offensive coordinators (Mike Sullivan and Dirk Koetter of the Bucs, Josh McDaniels of the Patriots, and Joe Lombardi and Jim Bob Cooter of the Lions in 2015).
Wright had a solid rookie season for Tampa Bay, playing all 16 games with 12 starts after being moved from wide receiver to tight end. He responded with 54 catches, 10.6 yards per catch and five touchdowns.
The Bucs must have liked what they saw in Wright – and so did the Patriots.
Wright was practicing to play Year 2 with the Bucs but never made it to the regular season with them. He was traded to the Patriots in late August in a deal that sent guard Logan Mankins to Tampa Bay. In New England, Wright again played all 16 games with two starts. He had 26 receptions, six TDs and averaged 10 yards per catch.
Wright also came away with the ultimate prize – a Super Bowl ring as part of a Patriots team that beat Seattle in Super Bowl XLIX. He played sparingly in the playoffs, but that did not diminish the pride he felt in playing on a championship team.
"That's what we played for every year," he said. "Definitely, it's a great achievement."
However, that did not bring stability to his career. Wright was on the move twice in 2015. The Patriots put him on waivers in the offseason, and he was claimed by the Bucs and off to his third training camp in Tampa in three years.
If anything, he was becoming an expert on where to find the best black bean soup in town – and how to learn a new offensive system on the fly. Wright was traded to the Lions late in training camp in exchange for kicker Kyle Brindza, who'd performed well for the Lions in the preseason.
Wright was a bit player for the Lions last year. He caught nine passes in nine games and scored two touchdowns.
Obviously, Wright goes into the 2016 offseason with no guarantees. Eric Ebron, the Lions' 2014 first-round draft pick, ranks at the top of the tight-end pecking order. Ebron showed progress in 2015, with 47 catches, five touchdowns and 11.4 yards per catch compared to his rookie totals of 25 catches, one TD and 9.9 yards per catch.
Other tight ends on the offseason roster are Brandon Pettigrew and Jordan Thompson, who had season-ending knee injuries.
Wright would like to build on his stats from last year, with the help of something that has eluded him so far – stability. He'll be working this offseason in the same system he played in last year. Cooter was the offensive coordinator the last nine games after replacing Lombardi.
"It's a great feeling going back into a system with my same teammates -- guys I know, guys I played a whole year with," Wright said. "I'm able to dive deeper into the whole conceptual aspect of the system, rather than learning plays week by week."