Mike Utley has been a symbol of perseverance and courage for how he has lived life to the fullest extent possible since sustaining a paralyzing injury a quarter century ago, but it should be remembered that he was an outstanding football player before being hurt.
Utley's prowess as an offensive lineman at Washington State has been recognized by his selection for induction into the College Football Hall of Fame later this year.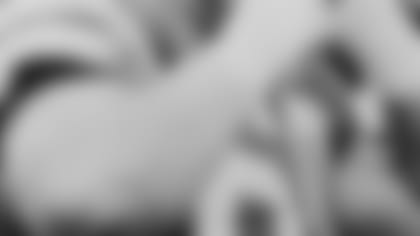 Mike Utley (Photo: AP Images)

Utley was drafted in the third round by the Lions in 1989. He was a full-time starter at right guard in 1991 when he sustained a spinal-cord injury in a game against the Rams. He was popular with teammates before the injury for his work ethic and personality, and he has remained close to former teammates and the Lions organization.
Utley reacted to his selection for induction in his typical fashion – exuberance mixed with reflection and appreciation for those he's met along the way in his voyage through life.
"Wow ... very overwhelming," Utley said over the phone from his home in Orondo, Wash., where he lives with his wife, Dani. "I felt like I did when I got to college. I hope I represented Washington State as well as I did my Mom and Dad (Irene and Frank).
"This is the truth: when you leave your house you're representing not only yourself and representing your Mom and Dad, you're representing Kennedy High School (in suburban Seattle), Washington State and the Detroit Lions.
"There's more to it than where you are."
Utley is part of a cast of collegiate stars that includes two members of the Pro Football Hall of Fame – linebacker Derrick Brooks of Florida State and defensive back Rod Woodson of Purdue.
Also being inducted are former Lions Herb Orvis and Marlin Briscoe.
Orvis, a defensive tackle, was drafted by Detroit in the first round out of Colorado and Flint Beecher High School in 1972. He played six seasons with the Lions and four with the Colts. Briscoe caught 22 passes in eight games for the Lions in 1975. He played for five others teams in his nine-year career, mostly as a receiver and part of one season as a quarterback.
Utley was a consensus All-American guard at Washington State as a senior in 1988.
As a Lion, injuries limited Utley to five games – all starts – as a rookie in 1989. He had worked his way into a full-time starting role in 1991. In Game 11, he was pass-blocking on a play that resulted in the go-ahead touchdown. He fell forward, striking his head on the turf with a force that shattered three vertebrae and caused paralyzing damage to his spinal cord.
As he was rolled off the field on a stretcher, Utley gave the fans and his teammates the thumbs-up gesture that has become his trademark and an inspiration to many others who have sustained spinal-cord injuries.
While his career with the Lions was cut short, Utley was highly regarded by his teammates on the offensive line.
"I remember the toughness, the desire to get better, and the desire to want to get better," said Lomas Brown, who spent his first 11 pro seasons playing left tackle for the Lions. "Mike wanted to learn. Mike was determined to make himself stronger and make himself better."
Brown's own experience allows him to put Utley's career into perspective. Brown was a consensus All-American at Florida in 1984, a first-team All-Pro tackle in the NFL and a seven-time Pro Bowler.
"Let me put it this way: he got in the (college) Hall of Fame before I did," Brown said. "And I have no problem with that. Mike's my friend."
At Washington State, Utley was twice all-conference in what is now called the Pac-12 Conference. As a senior he was voted Washington State's Most Valuable Player.
Utley's personality and attitude made him popular with players, as Brown's comments indicate. He has remained close to the franchise, which has supported him individually and the Mike Utley Foundation, which assists people with spinal-cord injuries.
As a rookie, Utley came to the Lions in a draft class that included 1988 Heisman Trophy winner Barry Sanders as the first-round pick and Rodney Peete, the Heisman runner-up, in the sixth.
Utley was touched by a congratulatory call from Lions Owner Martha Firestone Ford for his Hall of Fame selection.
"Speaking of the Lions, that's the cat's meow," Utley said. "Mrs. Ford, what she's doing, she's taking charge. Somebody's got to be at the top of the pyramid. It's Mrs. Ford, and I absolutely love that.
"I couldn't be happier and prouder that Mrs. Ford took time to say 'atta boy.' It's a class act. I appreciate that very much."