Luther Elliss was a person of faith as a pro football player. He exhibited it on the field, giving thanks after a sack or big play during the nine seasons he played defensive line for the Detroit Lions.
Elliss had faith in his personal life, and he kept it during some tough times after football – most of them financial because of bad business decisions that left him bankrupt with a large family to care for.
Ten years after retirement, his faith has taken Elliss into another realm. He has just completed his first season as chaplain of the Super Bowl 50 champion Denver Broncos.
Maybe it was divine intervention – or more likely a job that was well deserved for one of the good guys in sports – but being hired before the 2015 season by a Super Bowl champion was a blessing.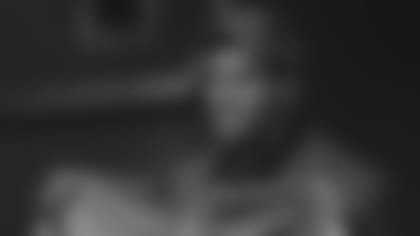 Luther Elliss (Photo: AP Images)

It was almost an overwhelming sensation for Elliss to watch the final seconds tick off at Levi's Stadium as the Broncos clinched the 24-10 victory over the Carolina Panthers.
"Honestly, I think it was surreal," said Elliiss, who was in Detroit over the weekend along with a group of former Lions players to take part in the franchise's Peer Pride Outreach program that assists and counsels players who might be having problems at various levels.
Elliss, who turns 43 next month, had personal success on the field as a Lion. He was a starter from the moment he joined them in 1995 as a first-round draft pick out of Utah. Elliss played end his first year and tackle the rest of his career.
Elliss was an amazing athlete – a 6-foot-5, 318-pound lineman with power, agility and the speed to run as fast as most linebackers.
In fact, every day after practice Elliss ran wind sprints with Barry Sanders – competing furiously with the best back in the NFL.
"I beat him one time," Elliss said. "I know he let me win, but a win is a win."
Elliss crushed the pocket. If he didn't get to the quarterback, one of his teammates did – Robert Porcher, Henry Thomas, Tracy Scroggins and others. Elliss made the Pro Bowl twice as a Lion, and when he signed a contract extension on the eve of the 1999 season he was the highest paid defensive tackle in the NFL.
And he played on competitive teams for his first six seasons in Detroit. The Lions made the playoffs three of those six seasons and had only two losing seasons before descending into a crater his last three seasons with won-loss records of 2-14, 3-13 and 5-11.
Unfortunately for Elliss, wife Rebecca and the couple's 12 children, losing on the field was nothing compared to his losses off the field. His financial problems have been well documented, and they didn't come from high living. Bad business decisions ultimately drained him of what should have been a golden nest egg.
The totality of his life experiences, and his upbeat personality and sincerity make Elliss well qualified to counsel players. It's one of the reasons the Broncos reached out to him last year when they were seeking to fill the position of team chaplain. He spent his last season with the Broncos in 2004 after signing to give them depth.
Elliss was at home in Salt Lake City with his family when a call came in from the Broncos' public relations department with the first feeler about his interest in becoming the Broncos' team chaplain. First-year head coach Gary Kubiak followed up with a job offer.
"He asked me if I'd be interested," Elliss said. "Before you knew it, I was saying yes."
Elliss had spent the previous two seasons as the defensive coordinator at Judge Memorial Catholic High School in Salt Lake City. He enjoyed coaching, but he had to give that up because of the demands of being the Broncos' chaplain.
 "It's pretty much full time with them," Elliss said. "There's some commuting – a lot of driving, a lot of flying."
His experiences have given Elliss a perspective that help him relate to players. Maybe it's locker room cred, but they know where he's coming from.
"I think that's a fair question to ask," Elliss said. "It's a combination of qualities I have with players. You look at them and understand that as life goes on, they have some things that are going on. I encourage them to do better. I talk to them about the horrific, or tragic, part of my life.
"I turn that into something I can use with them. You've been to the top. You've been to the bottom. Here's how you handle it. They can open up with something that's personal."