Following is the second installment in an analysis of the all-time best players taken by the Lions in the 32 picks, from 1-32. Picks No. 1 overall to No. 16 appeared Monday. This installment represents Picks No. 17 overall to No. 32.
These are the top contenders for each slot, not every player drafted by the Lions in that slot. These same standards and explanation apply as they did to Picks 1-16:
Not all 32 players are first-round picks. For example, guard Dick Stanfel, voted into the Pro Football Hall of Fame earlier this month, was drafted 19th overall in the second round in 1951, when the NFL had only 12 teams. In 1950 the Lions had four picks in the top 32.
The number of first-round picks has grown over the years through expansion, and the merger of the AFL and NFL that resulted in the first combined 26-team draft in 1967.
The NFL didn't have 32 teams until 2002, when the Houston Texans entered the league as an expansion franchise.
In some cases, only one player ever was picked in one spot. Obviously, the player in that spot wins by default.
The Lions have not drafted in all 32 spots. They have not drafted 31st overall since 1950.
As always, feel free to disagree:
17. Top contenders: DE Ernie Price 1973; LB Reggie Brown 1996; OT Gosder Cherilus 2008.
Price and Cherilus have longevity on their side, but Brown was on his way to a Pro Bowl career as an impact linebacker when he sustained a career-ending – and life-threatening – neck injury in the last game of 1997.
Brown had speed, range and power and used it in 1997 to start all 16 games, intercept two passes and score two touchdowns.
He nearly died on the field at the Silverdome in the 1997 game but was revived and sustained minimal paralysis.
Price played seven undistinguished seasons.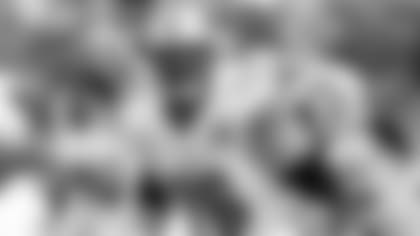 T Jeff Backus (Photo: AP Images)

Cherilus left the Lions as a free agent after five seasons, and still has not been replaced adequately at right tackle.
18. Only contender: OT Jeff Backus 2001.
He is the only pick at 18, but he'd be hard to beat, anyway. Backus was an iron man at left tackle. He started 191 of a possible 192 regular-season games.
19. Top contenders: RB Steve Owens 1970; G Dick Stanfel 1951 (second round), G Mike Rabold 1959 (second round).
Pick: Dick Stanfel, Hall of Famer.
Injuries cut into Owens' career and forced early retirement, but he made his mark as the first 1,000-yard rusher in franchise history with 1,035 and eight TDs in 1971. His career was over after the '74 season.
Stanfel was a five-time Pro Bowler and five-time All-Pro right guard with the Lions and Washington. This year he got the honor he deserved by being voted into the Pro Football Hall of Fame.
Rabold played nine seasons but only his rookie year as a Lion.
20. Top contenders: DT Luther Elliss 1995; OT Stockar McDougle 2000; TE Brandon Pettigrew 2009; TE David Lewis 1984.
Pick: Luther Elliss. He was moved inside from end to tackle in his second season and became a dynamic force as a pass-rusher and overall playmaker. He was voted to two Pro Bowls.
McDougle played the first five of his seven seasons in Detroit and was a starter the last three with little impact.
Pettigrew had productive receiving seasons his first four years as a Lion but has been primarily a blocking specialist the last three years. Injuries have cut into his career.
Lewis had 60 catches in three years and was gone after 1986.
Fair question: The Lions took CB Terry Fair at No. 20 in 1988 – leaving Randy Moss available for Minnesota with the next pick. Injuries curtailed Fair's career early.
21. Top contenders: DT Bob Bell 1972; WR Johnnie Morton 1995.
Pick: Johnnie Morton. He fit in early with Brett Perriman and Herman Moore to give the Lions the best trio of wide receivers in franchise history. Morton had 469 catches for 6,499 yards and 35 TDs in eight seasons as a Lion. He made tough catches and averaged 13.9 yards per catch in Detroit. He played four more seasons after leaving the Lions as a free agent in 2002.
Bell played three seasons in Detroit and five in St. Louis, starting 56 of 100 games to forge a solid, unspectacular pro career.
23. Top contenders: G-C Jeff Hartings 1996; OT Riley Reiff 2012, OT Dan LaRose 1961 (second round).
Pick: Jeff Hartings. He was so good that despite missing all of camp and the first five regular-season games because of a contract holdout he started in his second game after finally reporting. Hartings played five seasons at guard with the Lions, then six more at center – his natural position – in Pittsburgh after leaving the Lions as a free agent in 2001.
In Pittsburgh Hartings was first-team All-Pro once, made two Pro Bowls and played on the 2005 team that won Super Bowl XL – at Ford Field in Detroit.
Reiff has been durable for the Lions since taking over as the starter at left tackle in 2013. However, his future might be at right tackle or guard, depending on how the Lions' rebuild the offensive line this offseason.
LaRose spent only three seasons in Detroit.
24. Top contenders: G John Gordy 1957 (second round); RB Nick Eddy 1966 (second round); WR Earl McCullough 1968.
Pick: John Gordy. He moved into the starting lineup on opening day as a rookie on the '57 championship team and never moved out. He started every game for 10 seasons and made three Pro Bowls.
The first time Eddy touched the ball as a Lion he returned a punt for a touchdown in an exhibition game. There were few highlights thereafter, as injuries struck in his rookie year and short-circuited a promising career.
McCullouch was a national class hurdler in college. He averaged 18.8 yards on 123 catches in six seasons as a Lion.
25. Top contenders: DT Jerry Rush 1965 (second round); RB Gene Gedman 1953 (second round).
Pick: Tie. Gedman scored 21 touchdowns running and receiving combined as a part-time starter in six seasons as a Lion. Rush played all seven seasons in Detroit and was a starter the last three.
Gedman legacy: His impact was off the field, and it was massive. With representation of the late Vic Hanson, a lawyer who played football at Wayne State, Gedman is credited with filing and winning the first workers compensation claim for an athlete who claimed he was injured on the job.
26. Only contender: DT Robert Porcher 1992.
It would be hard to beat him out if there were nine contenders. The Lions went with a relatively small school and got big results when they drafted Porcher out of South Carolina State University. Porcher made three Pro Bowls and holds the franchise official records for sacks in a season (15, 1999) and career (95.5).
27. Top Contenders: C Bob Scholtz 1960 (third round); OT Aaron Gibson 1999; Thurman McGraw 1950 (second round).
He played only five seasons, but he was first-team All-Pro one season and made the Pro Bowl in another.
Scholtz was a seven-year player out of Watertown, S.D., and Notre Dame who played 60 games in five seasons with the Lions and finished his career with two seasons with the New York Giants (1965-66).
Gibson had weight problems, shoulder problems and was gone from Detroit in 2001.
28. Only contender: G Laken Tomlinson (2015).
He is unopposed in this slot, but what's more important is how he will compete on the field as his career progresses. He played all 16 games as a rookie with 14 starts, including the last 13 of the season. He progressed well on a line that had issues.
29. Top contenders: LB Chris Spielman 1988 (second round)' RB Garry James 1986 (second round).
Pick: Spielman. An all-time fan favorite and one of the most productive linebackers in franchise history, Spielman was a leader on a team that made the playoffs four times in five seasons (1991-95).
He led the team in tackles all eight seasons as a Lion, setting a franchise record of 195 in 1994. That broke the previous record of 153, also set by Spielman in 1988 which still stands as the second highest tackle total in franchise history.
Spielman made four Pro Bowls as a Lion and was first team All-Pro in 1991. He finished his career in Buffalo after signing as a free agent in 1996.
James never lived up to his draft position, rushing for 1,510 yards and 12 TDs in three fruitless seasons.
30. Top contenders: RB Kevin Jones (2004); RB Jahvid Best (2010).
Jones had the ability to be a dual-threat back, but injuries limited him to five seasons – four with the Lions and 2008 with Chicago.
Jones broke in with 1,113 yards as a rookie but never got close to that total again and never played a full season. He had a high of 61 receptions in 2006.
Best never played again after sustaining a concussion in Game 6 of 2011.
Highlight night: Best's last full game as a Lion was Game 5 of 2011 – a 24-13 win over Chicago on Monday Night TV at Ford Field. It made the Lions' record 5-0, and Best was a star with 163 yards rushing. That included an 88-yard TD run.
Forgettable: John Ford (1989) had five catches in seven games in his one season as a Lion.
32. Only contender: TE Pat Carter 1988 (second round).
Carter had a 10-year career, but there was a catch – no catches in the Lions' offense for a tight end after his rookie season. The Lions went to a pure Run and Shoot offense that used four receivers and no tight ends. Carter was traded to the Rams in 1999 and played nine more seasons with Rams, Oilers and Cardinals before going into coaching – tight ends, including a stint in Detroit.