What a weekend this is shaping up to be for Joique Bell.
The veteran running back re-signed with the Lions this week, and could play a role on Sunday vs. Chicago, depending on Detroit's injury situation at running back at the end of the week.
But Saturday is the more important day this weekend for the entire Bell family, as Joique will walk across the stage at Wayne State's graduation and receive his master's degree in Sports Administration.
"It's funny that my first week back here is the same week I graduate from Wayne State with my master's," Bell told reporters in front of his locker Wednesday.
"It's funny because I've always preached that to the kids that I'm trying to mentor or kids that come to my camps how important education is. For me to be able to walk across that stage Saturday, I don't want to tell them to do something I haven't done."
Bell said he's expecting a cheering section of around 30-40 friends and family at graduation on Saturday.
"For me to go back to my alma mater and to finish my master's degree there and be able to have my son there will probably be one of the greatest experiences I'll ever have as a father," Bell said.
Bell could then play a role for the Lions just down the street at Ford Field the very next day, depending on how a wrist injury for Theo Riddick and an ankle injury for Dwayne Washington respond to treatment this week.
Bell (5-11, 223) re-joins the Lions after spending four seasons with the team from 2012-15. He appeared in 60 games (15 starts) and totaled 561 carries for 2,235 yards (4.0 average) and 22 touchdowns, in addition to 161 receptions for 1,640 yards and a touchdown.
He was playing for the Chicago Bears earlier this season when they defeated the Lions Week 4. He rushed three times for six yards in that contest.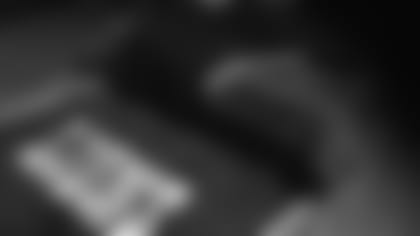 (Bell's cap and gown. Photo courtesty of Joique Bell)
Lions head coach Jim Caldwell had his detractors this offseason after last year's 7-9 season coming on the heels of a 11-5 year and a playoff appearance the year prior in 2014. A few more critics were probably added to the list after the team started 1-3 this season.
All the while, Caldwell remained the same even-keeled coach he's always been. He never gets too low or too high.
Caldwell said he never paid too much attention to the outside noise, so he doesn't take any satisfaction proving some of those detractors wrong by coaching the Lions to an 8-4 record and a first-place slot in the NFC North with a month remaining in the season.
"I get no satisfaction because number one, I don't pay any attention to it," Caldwell said. "Matter of fact, I don't hear it. All we're concerned about is what we can control.
"In this business you're always on the hot seat. I don't care what your record is. It's always going to be chatter and I think that's what the great thing (is) about our sport."
Caldwell's motivation has always been self-driven and team-oriented. Outside factors aren't a part of that.
"Satisfaction doesn't come from showing people, 'Hey, we can do this,'" he said. "That doesn't stimulate me at all. I coach because of the fact I love to see men perform at their absolute best and try to take them to heights, maybe where they can't take themselves.
"Those are the things that I think drives our staff and drives the people that are in this business more so than anything else. We're playing better, but we've got a big challenge ahead of us this week and it's a week to week business."
There's no such thing as a "trap game" when a team has a one-game-at-a-time approach.
The way the Chicago Bears beat up on Detroit earlier this season in Chicago doesn't really qualify this as a trap at all, even if the Bears are 3-9.
The Bears, starting their backup quarterback (Brian Hoyer), out-gained the Lions 408 yards to 263 in a 17-14 win.
"They just handled us to be honest with you," Caldwell said of the first matchup with Chicago. "They played us tough in every phase of the game, they ran to the ball, they hit us hard. We were not as effective as we're capable, and some of that had to do with them so in every phase they just played better than we did that day."
Lions quarterback Matthew Stafford was just 23-of-36 passing for 213 yards with two interceptions and a passer rating of just 56.8, his lowest of the season.
"We just didn't play well enough to win the game last time, we didn't execute well enough," Stafford said.
"We're obviously playing a talented defense, guys that do a really good job of keeping everything in front of them, stop the run well. I think as a season goes, you kind of adapt to who you have available, what you do well and we're still in that phase."
Expect the Bears to have the full attention of the Lions this week in practice and on Sunday at Ford Field.