Young players will do just about anything to get their big break in the NFL. Lose weight. Gain weight. Change positions.
Brandon Copeland was no different coming out of Pennsylvania in 2013.
A three-time Ivy League champion at Penn, Copeland finished his collegiate career with 30 straight starts along the defensive line and tallied 160 tackles, 11 sacks, 26.5 tackles for loss, an interception, two forced fumbles, two fumble recoveries, a safety and a touchdown.
Originally signed by the Baltimore Ravens as an undrafted rookie free agent in 2013, Copeland first tried to make it as a defensive lineman in the NFL. That meant adding weight.
"He's one of those guys that had been really heavy when we had him at Baltimore initially," Lions head coach Jim Caldwell said. "When I was (coaching in Baltimore) the first year he came out and he had gained a lot of weight.
"He tried to make the adjustment to the line and I think he put it on maybe a little bit faster than he'd like, and maybe not quite the way he'd liked to have put it on, and then he ended up getting released."
After being cut by Baltimore, Copeland slimmed down and made the move to linebacker after joining the Tennessee Titans practice squad in 2013 and 2014.
His NFL was career in jeopardy in 2015, so Copeland planned to join the Orlando Predators of the Arena Football League. But the NFL came calling once again. Copeland was accepted to the NFL's Veteran Combine last March.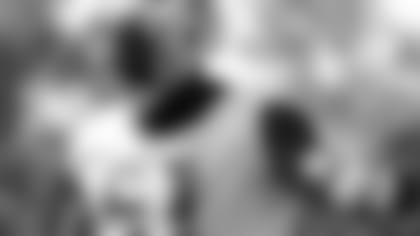 Brandon Copeland (Photo: Detroit Lions)

His impressive performance there earned him a one-year contract with the Lions. He made the team out of training camp and became a jack-of-all-trades for the team as a core special teamer, linebacker and defensive end.
Copeland split his practice time last season between linebacker and defensive end. But when given the opportunity to play on defense, it came as a pass rusher. He finished with 14 total tackles (defense and special teams) and recorded a half sack.
This season the Lions have narrowed Copeland's focus strictly to the defensive end position.
"We brought him here where we had a chance to kind of see him and he was back at his regular position in terms of using his speed and not quite as heavy and now he's putting (the weight) on gradually," Caldwell said.
"I think he's one of those guys rushing the passer well for us right now and it looks good. We'll see what happens when we get pads on, but I fully expect him to be a real factor."
The switch to defensive end full-time could potentially get Copeland on the field much more on defense in 2016. The Lions aren't particularly deep at the position.
Ziggy Ansah and Devin Taylor are expected to start. Wallace Gilberry will be a key reserve. Copeland, rookie sixth-round pick Anthony Zettel and undrafted free agent Deonte Gibson will compete in training camp for a fourth spot.
"Now he's getting bigger (up from 248 pounds last year to around 260)," Caldwell said. "He's always had the ability to run. You know, he's a sub-4.6 guy and he's a powerful guy, so we're trying to put him in a spot where we're not jumping back and forth.
"So he knows what we're going to want from him in terms of weight, knows what his responsibilities are. I think we found at this point in time that we think that the best spot for him is more up front than the linebacking corps."