Making my 100th consecutive start would mean a lot. It's just a sign of longevity, consistency, hard work and blessings. It's something that I never even thought about, but the closer it got, I started looking at it. When I got go my 100th game I was like, Oh man, just played my 100th game. Then I was like Oh snap, I'm almost to 100 consecutive starts. It's been a fun ride. When I get to walk on that field Sunday, it will be a great feeling.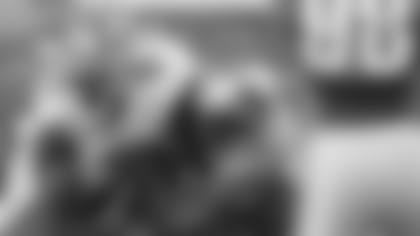 FS Glover Quin (Photo: Gavin Smith / Detroit Lions)

I've had a lot of great memories in these past 99 consecutive starts. Obviously when I caught my first interception. That was big because I ended up catching three in one game. That was crazy and it was so fitting because I had just broken my hand the week before so I was playing that game with a cast on my hand. To catch three picks in that one was big.
When I was in Houston and we clinched our first division tittle, that was a great moment. And then getting to play in my first Thanksgiving Day game in 2012, not knowing that I would become a Detroit Lion. Just growing up watching that game and then getting to play in it was pretty cool.
And then my first game here because never in a million years would I have ever thought I would end up in Detroit. For God to have that plan for me to come to Detroit, and for me to trust in his plan not knowing how things were going to turn out, it's worked out pretty good to this point. That was a big moment, running out in front of a new crowd. Obviously, the 2014 season too. The great games, big plays, representing Detroit in the Pro Bowl and making the playoffs. And finally, going to Lambeau this year and getting that win.
If I had to pick a favorite play, I would probably have to say my interception last year vs. the Saints. That was something that you dream about for a lot of different reasons. One, I have huge respect for Drew Brees. So to catch an interception off a guy like Drew Brees was major, but to catch it in that moment to help us win that game was even better.
I can't say I have a goal after 100 consecutive starts because I didn't make hitting 100 a goal. I just played and it happened. I think the next number is 150. That's about another three years and two games. I think I can make 150.
View Glover Quin's top 15 memories from his 100 consecutive games started streak.