Two holding penalties called on the Chicago Bears late on their final possession played a huge factor in Detroit's 20-17 win Sunday at Ford Field.
Both calls wiped big gains off the board, taking the Bears out of potentially game-tying field goal range and into a 1st and 30 situation in their own territory. The calls ultimately helped the Lions' defense make a crucial fourth-down stop to preserve their eighth come-from-behind victory of the season.
Those two holding calls are the subject of this week's Film Review.
The first call comes with the Bears facing a 1st and 10 at the Lions 43-yard line. The Bears are in a shotgun five-receiver set. The Lions counter with their nickel package and rush just four. The matchup to watch here is Lions defensive end Ziggy Ansah against Bears left tackle Charles Leno Jr. (#72).
Ansah missed a good portion of this game with a shoulder injury, and has been dealing with an ankle issue all season, but on this play, Ansah's speed and athleticism are too much for Leno.
Ansah gets a great jump at the snap and smacks Leno's hands off of him to get outside leverage. At this point Ansah has a beat on Bears quarterback Matt Barkley, and Leno has no choice but to wrap his arms around Ansah and tackle him to prevent a big hit on Barkley's blind side.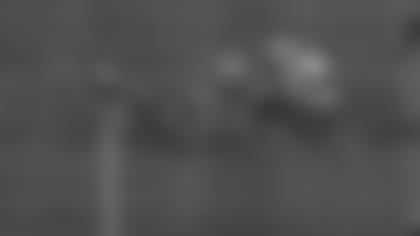 The play ultimately results in a completed pass to receiver Cameron Meredith for a 27-yard gain down to the Lions 16-yard line.
But would Barkley have gotten the ball off without the hold?
Instead of having 1st and 10 at the Lions 16, the penalty moved the Bears back to their 47-yard line.
Now they come out in a shotgun four-receiver set with running back Jeremy Langford to Barkley's right. The Lions counter with their three-safety dime package.
The Lions show blitz pre-snap with linebacker Josh Bynes and safety Tavon Wilson at the line of scrimmage, but back out of it at the snap.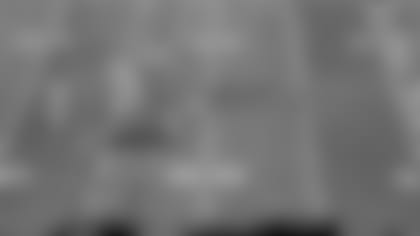 Teryl Austin dials up a double stunt game upfront with Ansah and fellow defensive end Devin Taylor stunting underneath defensive tackles Haloti Ngata and Kerry Hyder, who moved inside on this play.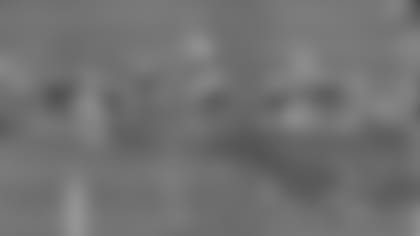 The stunt to watch here is the one involving Ngata and Taylor. Bears right guard Ted Larsen (#62) does a good job engaging Ngata, and then recognizing the stunt and pushing Ngata off to right tackle Bobby Massie. He isn't able to square himself back up in time before Taylor engages him, which gives Taylor immediate leverage.
Taylor uses a nice swim move to get outside leverage on Larsen, and now Larsen is in trouble.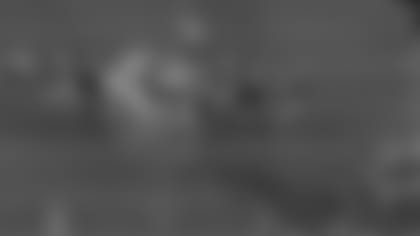 Trying to recover, Larsen wraps his arm around Taylor and hooks him instead of letting him go, knowing he's beaten.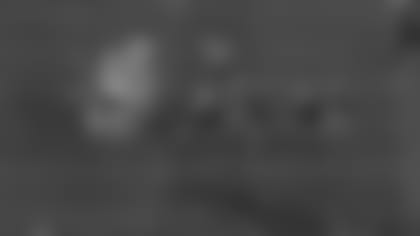 The play results in a 23-yard pass from Barkley to receiver Daniel Braverman to the Lions 30-yard line, which would of put Chicago in field goal range. Instead, the holding penalty moves the Bears back to their 37-yard line to face a 1st and 30.
It can be debated if Taylor was going to get to Barkley if not held. It would have been close.
Detroit's defense held out from there as Darius Slay defended a pass on 4th and 11 a few plays after the Taylor penalty to preserve the win.