DETROIT —The Detroit Lions announced today that they have promoted Emily Griffin to vice president of marketing. Griffin will oversee all Lions marketing operations including branding and creative services, advertising, game day entertainment and special events as well as digital media, corporate communication and football education.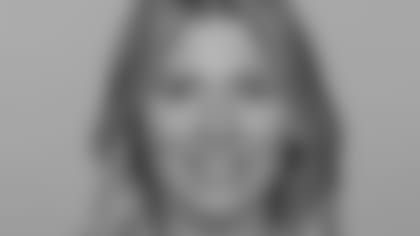 Griffin joined the Lions in December 2014 as digital media and corporate partnership strategist, tasked with aligning the team's digital, social and mobile platforms, streamlining corporate partner activations in the space and driving digital media revenue.
"We are excited to promote Emily to vice president and have her lead our marketing operations," said Detroit Lions Team President Rod Wood. "The work she has done during her short time with the organization has been exceptional and her familiarity with our existing brand initiatives positions her to quickly strategize and advance our vision for the future."
Before entering the NFL, Griffin spent more than three years (2012-2014) with HelloWorld, Inc. (formerly ePrize) in a variety of roles. Most notably, she was account director for the firm's largest client, the Coca-Cola Company, developing and executing digital marketing campaigns for their sports and entertainment partners.
Griffin began her career with Palace Sports & Entertainment in 2008 as a marketing coordinator. She spent 3 seasons in the NBA where the Pistons named her 2009 Corporate Marketing Employee of the Year; she was promoted to account manager in 2011.
While with PS&E, Griffin implemented corporate sponsorships for all of their properties (Detroit Pistons, The Palace of Auburn Hills, DTE Energy Music Theatre, Meadow Brook Music Festival). Griffin graduated from Hope College in Holland, Mich. with degrees in Communication and Political Science.