BOCA RATON, Fla. – DeAndre Levy's 2015 season consisted of just 17 snaps on defense.
The All-Pro linebacker suffered a core muscle injury in the preseason and didn't make his regular-season debut until Week 5 vs. Arizona. He aggravated the injury early in that game and his season was over.
Gone was the team's best tackler, best cover linebacker and possibly the best player on defense.
The Lions fully expect Levy to be ready to go for the 2016 season, and his return should make a huge impact on Teryl Austin's defense.
"You just don't find a whole lot of guys who can make 100 tackles year in and year out. He's one of those guys," Lions head coach Jim Caldwell told reporters at the NFL League Meetings Wednesday. "There's no question he's going to help us tremendously."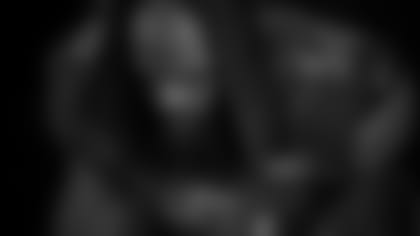 DeAndre Levy (Photo: Detroit Lions)

The Lions went from ranking second in total defense in 2014 to 18th last season. The unit didn't rank better than 15th in any major statistical category on defense a season ago.
The loss of Ndamukong Suh in free agency before the season certainly played a role in that, but some would argue the loss of Levy played an even bigger one.
After leading all linebackers with six interceptions in 2013, he racked up the most solo tackles (117) in 2014. The last three seasons in which he's played in all 16 games, Levy recorded 109, 119 and 151 tackles, respectively.
"I'm fully expecting him to be able to do the things he's always done for us," Caldwell said. "Make plenty of tackles. Be able to cover guys in terms of pass routes out of the backfield and detached.
"And certainly give us some help in terms of rushing the passer and blitzing once and a while. I expect him to be the same active guy he's always been."
Levy will have a checkup with team doctors when the players return for the offseason training program. It will be determined at that time when he'll be allowed to join his teammates on the field.
"One of the things I do know about him is the fact that he trains so well," Caldwell said. "He's one of those guys that will take advantage of every single opportunity he has to get better. He's a rare breed in that sense."
New general manager Bob Quinn said Levy's return would pay immediate dividends on defense, and raises the ceiling of how good that unit can be.
"It impacts it," he said. "I mean, DeAndre's one of our better players. I have yet to meet him, but the stuff I've seen on film, he's a difference maker when he's healthy.
"So, we're looking forward to getting him back in the building and getting him ready for the year."