BOCA RATON, Fla. – The NFL League Meetings are off and running here in Florida, and the NFL Competition Committee has some points of emphasis they're busy presenting to coaches and owners before Wednesday morning's vote on proposed changes to league rules and bylaws.
Atlanta Falcons president Rich McKay, co-chairman of the committee, and NFL vice president of officiating Dean Blandino presented four points of emphasis to reporters in a press conference on Monday.
The first is moving the snap of the extra point try permanently to the 15-yard line. The NFL experimented with this last season – making the try a 33-yard attempt – and saw it become a much more meaningful play. Instead of the 99.4 percent success rate when the ball was snapped from the 3-yard line in years past, that number fell to 94.6 percent last season.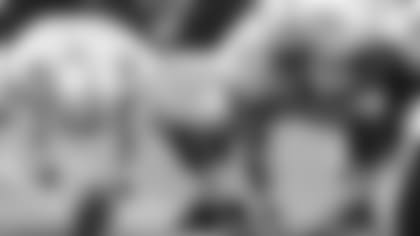 K Matt Prater lines up for an extra-point attempt (Photo: Detroit Lions)

"We made it a meaningful play," McKay said. "And I think the membership did a good thing last year in giving us that opportunity for one year and we hope to vote that permanently."
Sportsmanship, or the lack thereof in some cases, will also be a point of emphasis during the next couple days. The NFL had 75 unsportsmanlike penalties in 2015, the most ever in a single season.
To help stem that trend, the competition committee has proposed a rule change that disqualifies a player who is penalized twice in one game for certain types of unsportsmanlike conduct fouls.
"When games get as chippy as some of our games got this year, when that number gets to 75, we need to emphasis it," McKay said.
Taunting an opponent or standing over him after making a tackle, pushing the ball in an opponent's face, abusive language or throwing a punch or kick are examples of infractions that fall under the unsportsmanlike window.
The NFL also saw a huge spike in neutral zone infractions last season. The average number of neutral zone penalties is in the 30's in a typical year. According to McKay, last year there were 164.
The competition committee thinks the spike is "directly tied" to all the movement – sometimes quick and abrupt movement – along the offensive line in the silent count.
It will be a point of emphasis to show offensive coaches what they can and can't do in that regard moving forward. The officials will be watching for infractions.
The last point of emphasis will be further clarifying to the general council what a catch is. Blandino described it as "control plus two feet plus time."
The "time" element has been the grey area here, but Blandino hopes to show video to the general council this week to help clear that up a bit.
"The rulebook definition of time is have the ball long enough to clearly become a runner," Blandino said. "What does that mean? That means you have the ability to ward off (or) avoid contact by a defender and advance the football."
Blandino and the NFL are simply looking for a rule that allows for greater consistency in that call.