DETROIT - The Detroit Lions announced today that the 2016 Quick Lane Bowl will be played on Monday, December 26 at 2:30 PM ET and will be televised by ESPN.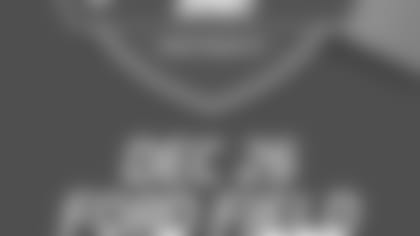 The Quick Lane Bowl will typically feature teams from the Big Ten and ACC. At the end of the college football season, officials from both conferences will meet with bowl officials to determine the best possible matchup and choose their team representatives.
The 2015 game saw a victory for the University of Minnesota Gophers over the Central Michigan University Chippewas, representing the MAC conference, 21-14. The MVP of the game, UMN's QB Mitch Leidner, led a comeback in the fourth quarter running 13 yards for a touchdown with 4:26 remaining.
2016 will be the third year of a multiyear agreement for Ford's Quick Lane Tire and Auto Center as the title sponsor of an annual college football bowl game at Ford Field.
The Detroit Lions are the only NFL team to own, host and operate a college football bowl game. The team's entertainment division, DU Entertainment, has promoted multiple large-scale shows and events at Ford Field, including seven consecutive sold-out Kenny Chesney concerts, Taylor Swift, the 2003 Basketbowl, 2008 NCAA Men's Basketball Regionals, 2009 NCAA Men's Basketball Final Four and the 2010 NCAA Men's Ice Hockey Frozen Four.
About Detroit Lions
The Detroit Lions are a professional American football team based in Detroit, Michigan. They are members of the North Division of the National Football Conference (NFC) in the National Football League (NFL), and play their home games at Ford Field in Downtown Detroit. The team located to Detroit in 1934 and is the National Football League's fifth oldest franchise. The Detroit Lions most recently made the NFL playoffs in 2014, when they finished with an 11-5 record. In addition to professional football, the Detroit Lions have a visible and active community relations role in the Detroit area. With a focus on health and wellness and community revitalization, the Lions have contributed $7.2 million through philanthropic efforts since 1991.
About Quick Lane
Ford's Quick Lane Tire® Auto Center offers routine vehicle maintenance such as oil and filter changes, light repair services including brake repair, and tire replacements on all vehicle makes and models. With its more than 700 locations, customers can visit www.guicklane.com to find a center that is closest to them, print savings coupons and review maintenance tips to keep their vehicles running at peak efficiency. This site includes information on how to spot tire wear, how to jump-start a battery and even a series of tips to improve a vehicle's fuel economy.
About Ford Motor Company
Ford Motor Company, a global automotive industry leader based in Dearborn, Mich., manufactures or distributes automobiles across six continents. With about 186,000 employees and 65 plants worldwide, the company's automotive brands include Ford and Lincoln. The company provides financial services through Ford Motor Credit Company. For mor information regarding Ford and its products worldwide, please visit http://corporate.ford.com.