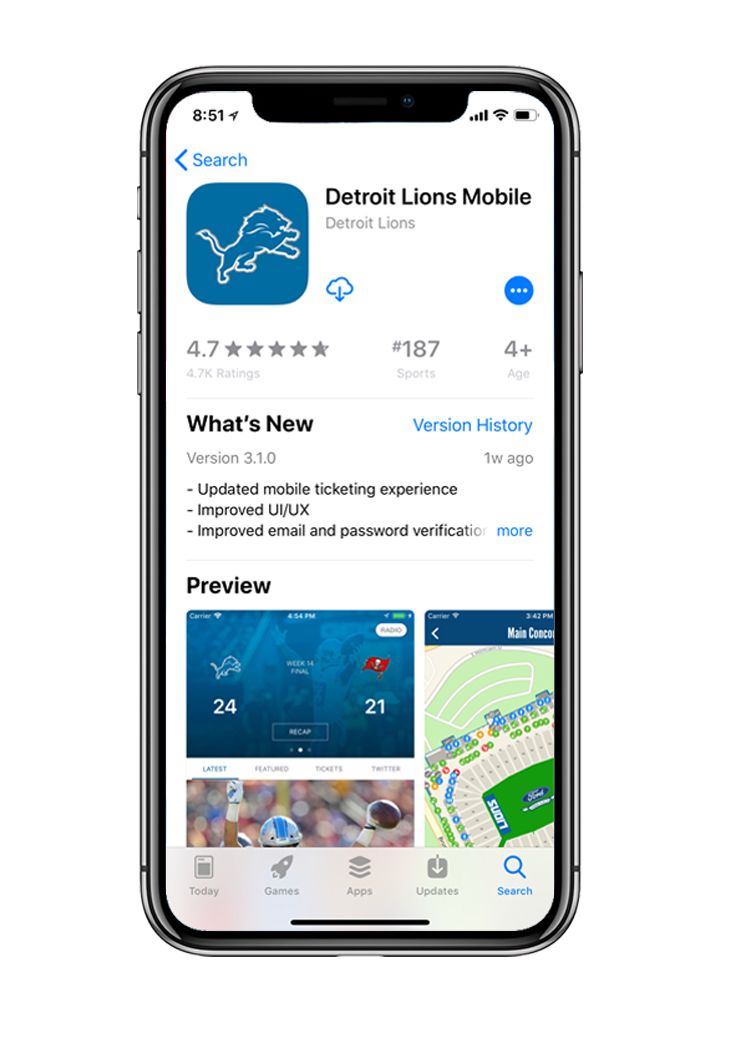 Download the Detroit Lions Mobile App
The first step to secure digital ticketing is to download the Detroit Lions Mobile App from the Apple Store or Google Play
* Please make sure to keep the app updated to the latest version – new updates will be introduced throughout the year!*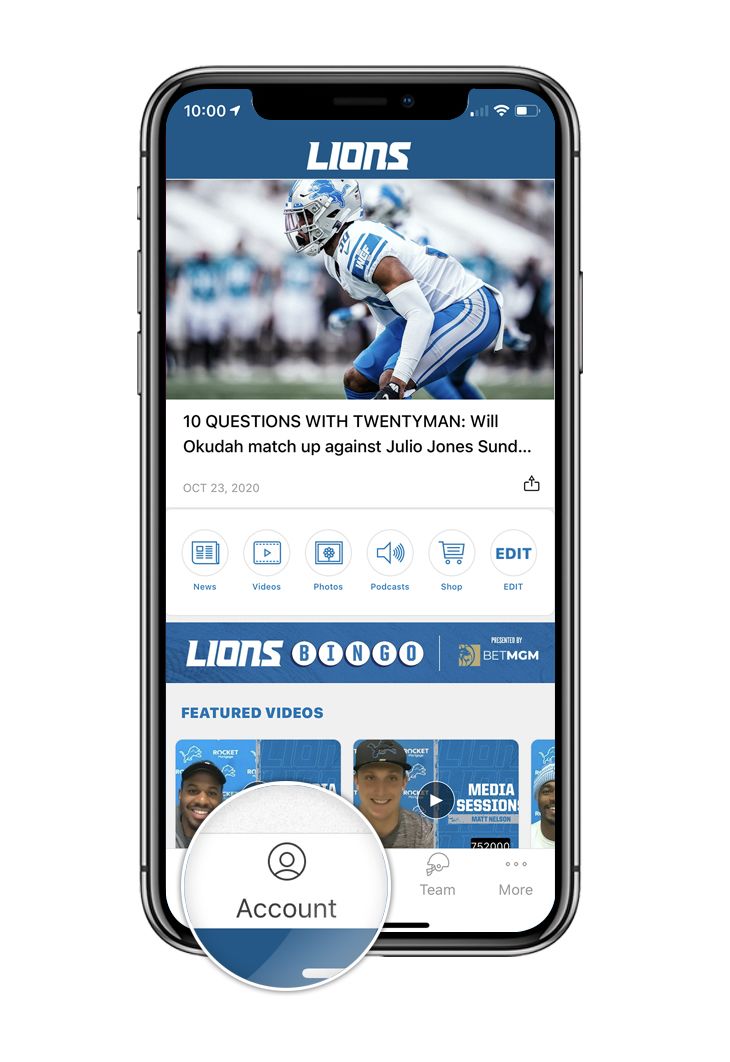 Open the app and click on "Account" from the bottom menu.
Tap "Access My Tickets" which will allow you to view and manage your game admission tickets and parking.
Tap the "Lions Perks Card" tile to view your unique digital "Lions Perks Card" offers and to access your "Lions Loot".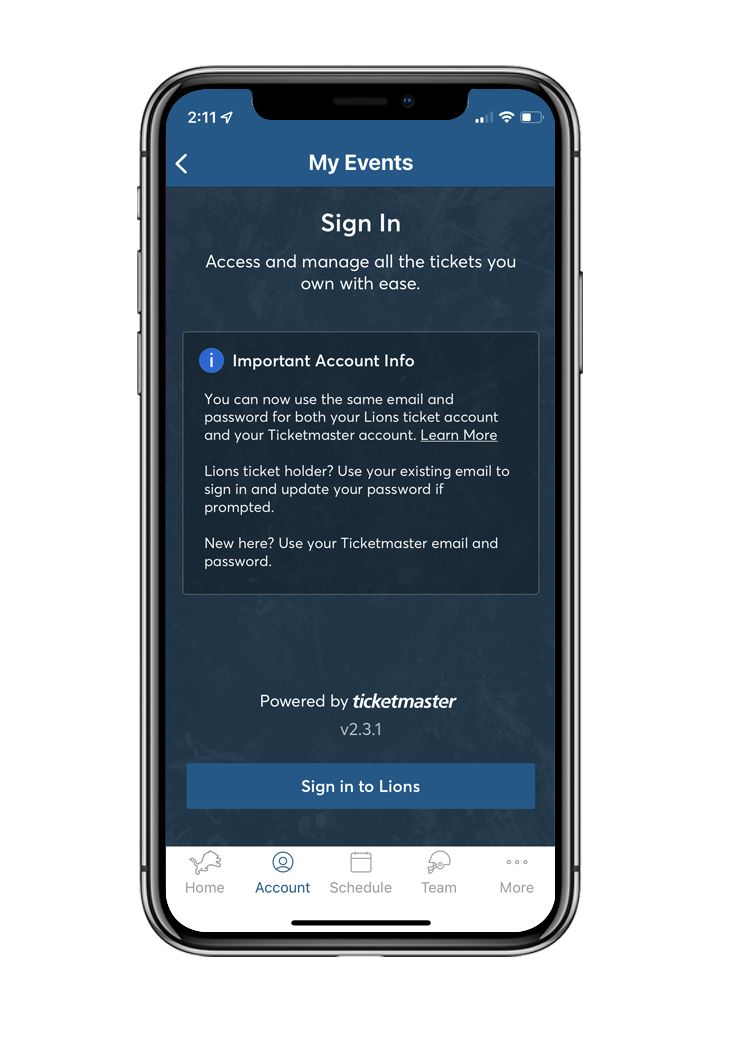 Sign in with the email and password associated with your "My Lions Account" or "Ticketmaster Account".
You will have the option to update your password for both accounts. You will also have the option to link your Lions and Ticketmaster accounts.
When you tap "Access My Tickets" you will see a listing of all games you have tickets to attend.
Simply tap on the card for the game you are attending or the game you would like to manage your tickets.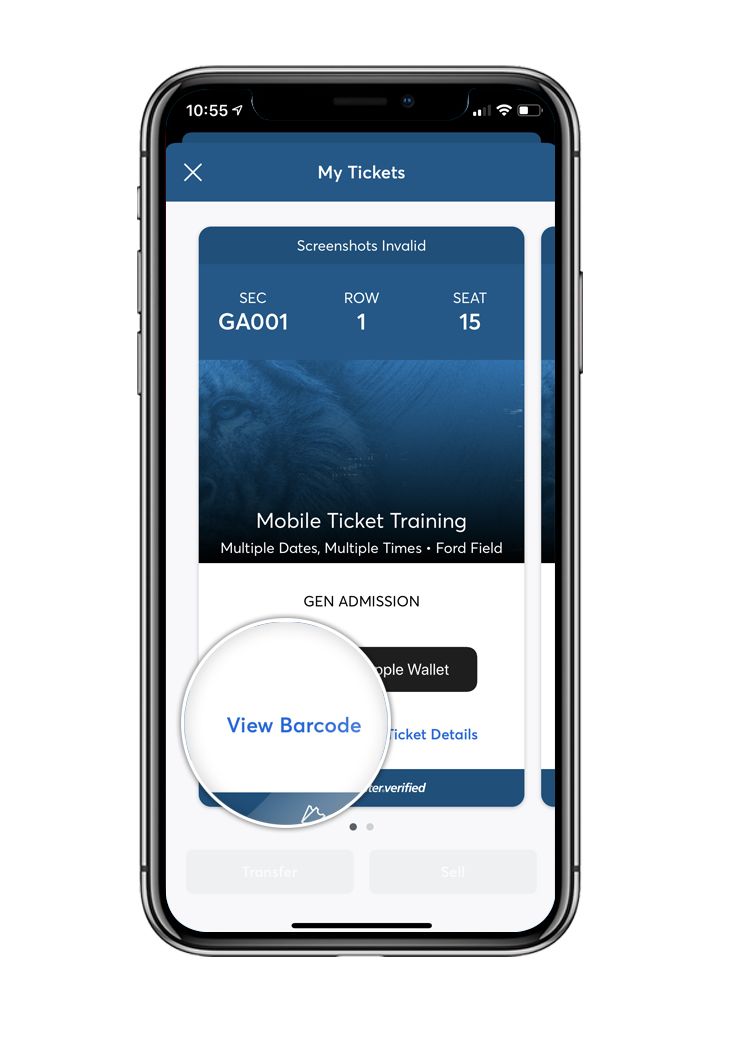 Tap "View Barcode" to display the Secure Digital Barcode that you will present at the gate upon entry.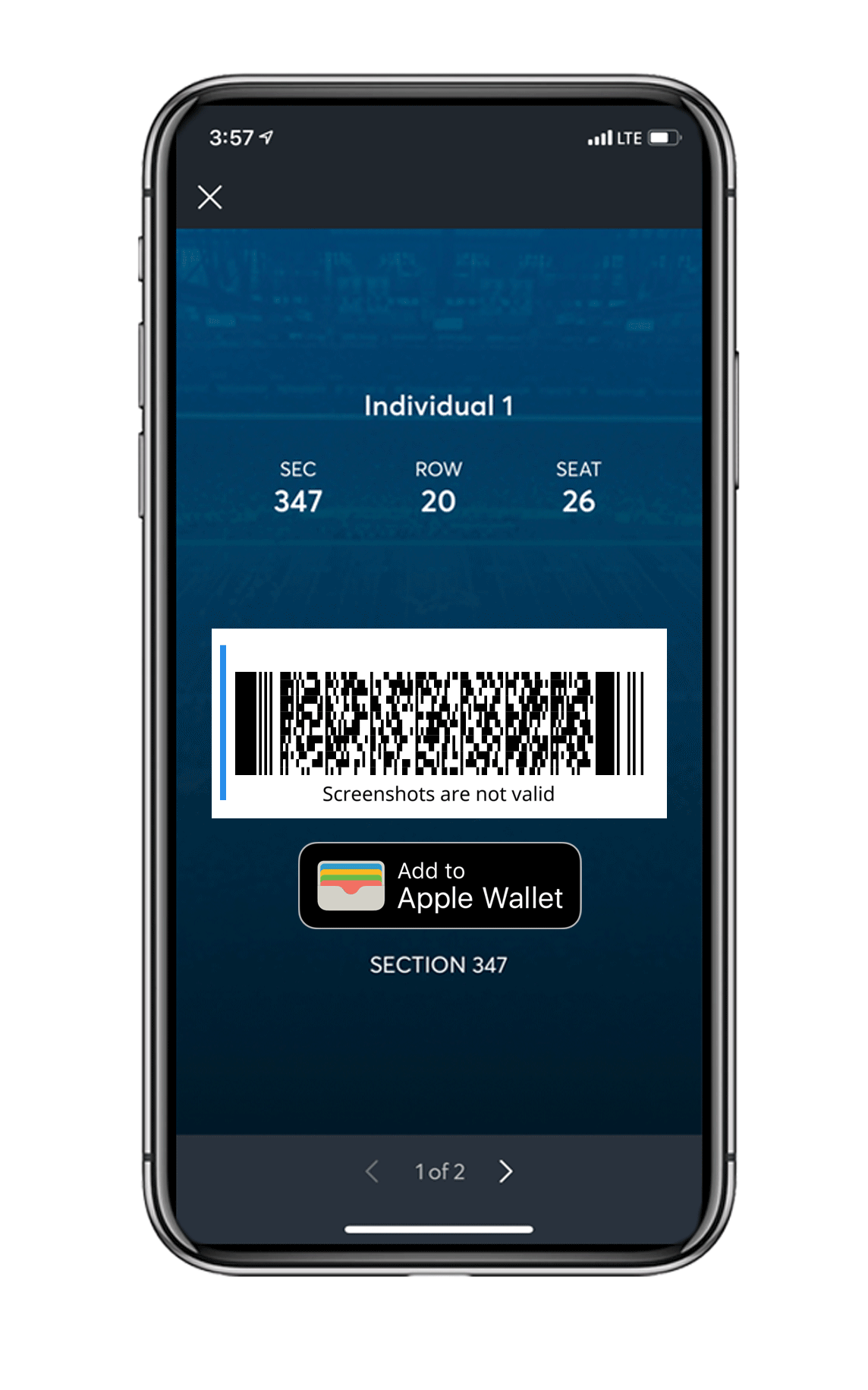 Present the Secure Digital Ticket with the rotating barcode for scanning at entry using the mobile app.
NOTE: NO SCREENSHOTS WILL BE VALID FOR ENTRY
We recommend that you add your tickets to Apple Wallet (iPhone) or Google Pay (Android) for quick and easy access.
Enjoy the game!
Simply tap on the card for the game you would like to transfer tickets.
Click on "Transfer" from the bottom left corner of the screen.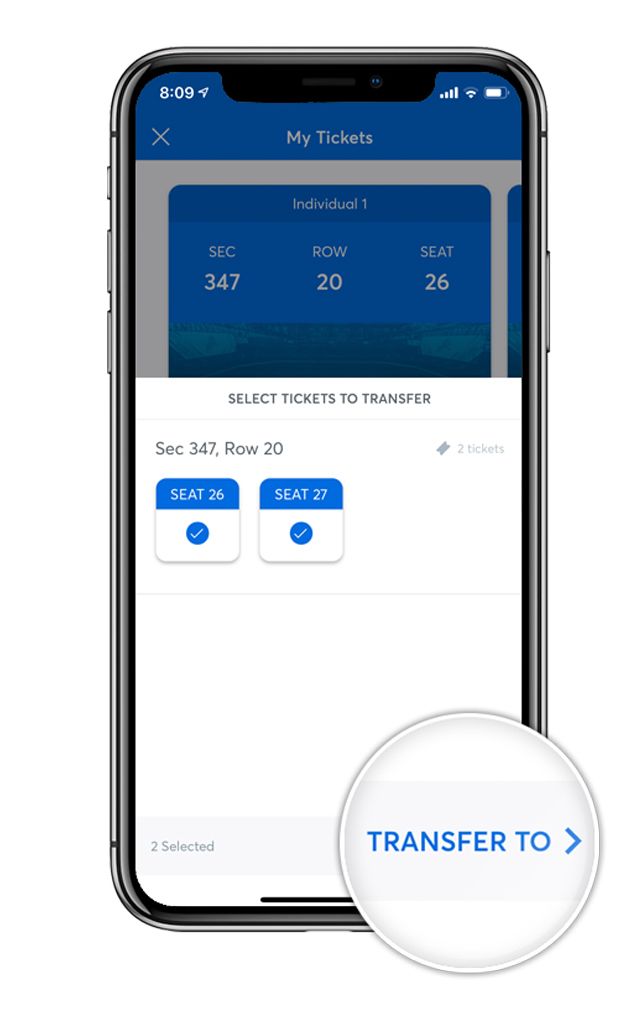 Select the seats for which you would like to transfer ticket ownership, and then select "Transfer To" in the bottom right hand corner of the screen.
Select from contacts or manually enter a recipient. You can choose to send via text message or by email. Simply fill out the form and click "Transfer Tickets" in the bottom right corner of the screen.
Recipients must open the link and accept the tickets.
Secure Digital Ticketing FAQs
CAN I ENTER FORD FIELD USING A HARD STOCK OR PAPER TICKET?
No. In accordance with the National Football League's digital ticketing policies, all NFL teams are required to deliver tickets digitally. All Detroit Lions tickets and parking passes will be delivered digitally in your personal My Lions Account powered by Ticketmaster's convenient digital ticketing platform.
HOW DO I ACCESS MY SECURE DIGITAL TICKETS ON MY SMARTPHONE?
Download the Detroit Lions Official App from iTunes or App Store or the Google Play Store. Click on the "Account" tab in the bottom navigation. Login with your "Ticketmaster or My Lions Account" to view your digital tickets. When you get to the game, present your smartphone to the guest services representative to have your ticket scanned.
If you have guests and multiple tickets on your phone, swipe to navigate between them.
CAN I PRINT MY TICKET FROM HOME?
No, all tickets are fully digital and only accessible via your mobile device. Your phone is your ticket.
CAN I USE A SCREENSHOT OF MY TICKET?
No, a secure digital ticket must be presented either within the app, the mobile website or within your phone's wallet to gain entry into Ford Field. Screenshots and PDF/paper tickets will not be valid for entry. Any guests arriving to Ford Field with a screenshot/PDF/paper ticket will be directed to the box office and will need to provide photo identification to verify that they are the ticket owner of record.
WHAT HAPPENS IF MY TICKET DOESN'T SCAN PROPERLY?
That can usually be solved by turning your screen brightness to the highest setting. If that doesn't work, your ticket can be validated by having the ticket taker manually enter your ticket number directly into the scanner.
WHAT IF I LOSE CONNECTIVITY / CAN'T CONNECT TO MY ACCOUNT?
Our team app includes offline mode so once the tickets have been added to your account, you will be able to access them regardless of internet connectivity. To ensure seamless entry, we highly recommend downloading your tickets to your phone before arriving to the game. If you have an iPhone, you can store your tickets in your Apple Wallet.
WHAT IF MY PHONE BREAKS, DIES, OR IS LOST/STOLEN BEFORE I ARRIVE?
Simply come to the box office on event day, present your photo ID, and verify either your email address or mobile phone number. At that point, we'll verify that you are the ticket holder of record and provide a ticket resolution.
CAN I HAVE MULTIPLE TICKETS ON A SINGLE PHONE?
Yes; however, it's much easier to transfer to each attendee their individual ticket.
WHAT IF MY ENTIRE PARTY ISN'T WITH ME WHEN I'M READY TO ENTER?
You can easily transfer each member their ticket individually since each person entering will need a ticket to get in.
HOW DO I TRANSFER A TICKET?
It's easy! Once logged in, do the following:
Select "Access My Ticket(s)", then choose your event and tap TRANSFER (Note: some exclusions apply for suite access, premium seating areas and complimentary tickets.)
Select the tickets you'd like to send to another party, then select TRANSFER Tickets
Select your favorite sharing app and TRANSFER ticket ownership to your recipient(s) via email, text or social media.
DOES THE PERSON I SEND THE TICKETS TO NEED A TICKETMASTER ACCOUNT?
Yes, if the secure digital ticket recipient doesn't have a Ticketmaster account with the Detroit Lions already, they will simply create an account when accepting the secure digital ticket.
WHAT IF I FORWARD TICKETS TO THE WRONG PERSON, CAN I RECALL THE TICKETS?
Yes, you can reclaim tickets as long as they haven't already been accepted by the recipient. Please be careful to enter your contacts email address or mobile phone number accurately when transferring tickets. Once a ticket has been claimed by the recipient, the tickets cannot be returned or recalled from the new ticket recipient.
CAN TICKET HOLDERS TRANSFER TICKETS AFTER THE EVENT HAS STARTED?
Yes; however, you cannot transfer a ticket after the ticket has been scanned for entry into Ford Field.
IS MY PERSONAL INFORMATION SECURE?
Yes, our ticketing software and ticket management systems are PCI compliant, your mobile ticketing account and password are well protected.