Who knew that three players from Brunswick, Georgia (population 16,287) would one day reunite in the Detroit Lions' defensive backfield.
Cornerback Darius Slay, safety Tracy Walker and the newest member to Detroit's secondary, unrestricted free agent signee Justin Coleman, all grew up in Brunswick. They all played football at Brunswick High School.
Coleman and Slay played a couple years on the football team together, and the pair won a state track championship on the 4x100 relay team.
"It was definitely a dream that we would come together at some point," Coleman said at his introductory press conference Thursday. "I kind of looked up to (Slay) as a young kid to get to where he was going, because I knew he was going to do something big with his life."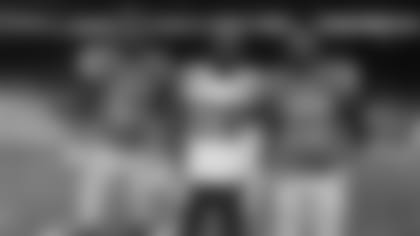 Slay was one of the first people to call Coleman after he signed with the Lions, a signing that became official Thursday. Coleman said Slay told him he put in a good word for him with the team in hopes the Lions would pursue him in free agency.
In Coleman, the Lions have added much needed talent to their secondary. He played for Lions head coach Matt Patricia in New England in 2015 and 2016, and spent the last two years in Seattle playing in all 32 games with 10 starts in the slot. He recorded 55 tackles, a sack, a forced fumble and an interception playing inside for the Seahawks last season.
Coleman was graded the sixth best slot cornerback in the NFL by Pro Football Focus last season, but he played the majority of his snaps on the outside while playing in Patricia's defense in New England, so he has a multiple skill set.
"I kind of consider myself just another player to come help the team," Coleman said. "I do a lot of studying. Corner, safety or nickel, it doesn't matter. I feel like wherever I'm capable of playing, and wherever I can help, I'm definitely going to give my best."
Coleman could potentially play both inside and outside depending on the need or defensive package. Opposing quarterbacks had just a 82.5 passer rating throwing his way with one touchdown last season.
In 52 career games, Coleman has 126 tackles, 2.0 sacks, three interceptions, 27 passes defended and two touchdowns.