For nearly a century, the Detroit Lions have been synonymous with Thanksgiving. Being one of the longest traditions in sports – especially on a holiday so significant to many Americans – is an honor the Lions don't take lightly. We all know it will look different than in Thanksgiving days past, but there are some things that will never change: using this time of year to give thanks, offer gratitude and honor time-worn traditions.
In the spirit of that, the Detroit Lions teamed up with Kroger to give back this Thanksgiving season, in the safest way possible to many in-need families of students at the Detroit Lions Academy.
The Detroit Lions Academy enrolls students in grades 6-8 that have faced challenges learning and engaging in traditional education settings. Students attending Detroit Lions Academy directly benefit from the Detroit Lions' active presence within the community, including mentorship from the Detroit Lions Women's Association and players, gaining first-hand experiences and participating in activities and programs facilitated through other Detroit Lions Charities partners.
This past Tuesday, the Lions, with the help of Kroger, dropped off pumpkin pies and $100 Kroger gift cards as a surprise to 110 Detroit Lions Academy students and staff to make certain students and their families have access to a Thanksgiving meal this holiday season.
"Given the many obstacles our families face, the holiday season is always a challenging time of year. This year in particular has been hard," said Detroit Lions Academy Principal Alean King. "The generosity of the Lions and Kroger goes a long way toward lifting spirits and ensures that our students have a warm meal to enjoy."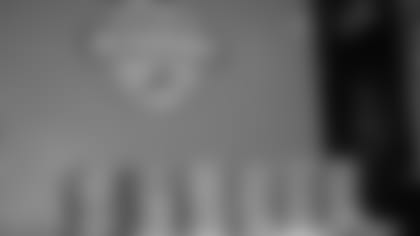 Detroit Lions Academy has 96 students and 14 staff members, each of whom received a pumpkin pie fresh from Kroger's Bakery and a gift card. Students and parents came to pick them up on Tuesday afternoon as learning has been entirely virtual since November 16. Prior to that, about one third of students were participating in-person since the start of the school year in September, with the rest of students learning virtually.
"Giving back to the communities we serve always takes on a different meaning around the holidays," said Corporate Affairs Manager for the Kroger Co. of Michigan Rachel Hurst. "Partnering with the Lions on this initiative for the students and staff at Detroit Lions Academy was such a powerful way to make an impact in these unique times."
All Detroit Lions Academy students rely on food provided to them at school to eat in some form – students receive food twice a week to take home, which is facilitated by Detroit Public Schools Community District. The Lions have also been catering in lunch once a week this year and have stocked the pantry at the school with food in case students need additional food to take home.
Now, more than ever, the Lions believe it's important to show up in the community in the ways that matter and bringing a Thanksgiving meal to families during an unprecedented year is just the latest example.