DETROIT— The Detroit Lions and City Year Detroit today announced the awarding of a $100,000 grant to fund a City Year Detroit team for the 2018-2019 school year at Mary McLeod Bethune Elementary-Middle School in Detroit. Detroit Lions President Rod Wood has also joined City Year Detroit's executive board.
Mary McLeod Bethune Elementary-Middle is a pre-kindergarten through eighth grade school in the Fitzgerald neighborhood on Detroit's west side and during the 2017-2018 school year, less than 10 percent of students were proficient in math and English language arts. City Year Detroit aims to bridge the gap that many students face when additional support is needed and even the best teachers and administrators don't have time or resources to provide.
"As the Detroit Lions, we have a responsibility to use our platform to effect positive change in our community," said Wood. "Education has long been a focus of our community relations initiatives and we are honored to work with an organization like City Year Detroit that has a proven track record of improving student performance. It's also a personal privilege of mine to further our support by serving on their executive board."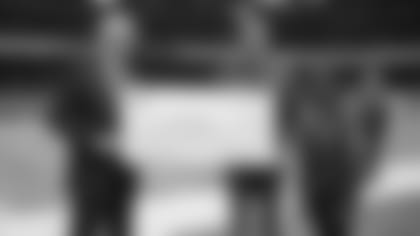 The 2018-2019 school year will mark City Year Detroit's third year at Bethune. There are currently nine City Year AmeriCorps members working full-time in the school, all aged 18-25. City Year programming partners with teachers in selected schools to work in the spaces that exist between student need and what the infrastructure can provide. Every AmeriCorps member is trained to give individualized attention to kids and lead school-wide initiatives that help to promote a positive culture. Statistics show that schools with City Year are up to two to three times more likely to improve on English and math state assessments and gain approximately one month of additional learning in English language arts and math.
"We are incredibly grateful and excited for our partnership with the Detroit Lions," said City Year Executive Director Andrew Stein. "We know all children can succeed, and support from organizations like the Lions provide us with the opportunity to continue our work of keeping Detroit students in school and on track."
City Year Detroit grew by 20 AmeriCorps members this year for a total of 91 and partnered with an additional three schools for a total of 10 DPSCD school partnerships, supporting over 6,500 students each day. City Year Detroit's goal over the next three years is to have 140 AmeriCorps members in 14 DPSCD schools, supporting over 10,000 students.